Target Area Selection
RS & GIS FOR BASELINE DATA
MIS
VP Micro- Plan
Target Area Selection
The use of Remote Sensing and GIS technology in the Uttarakhand Forest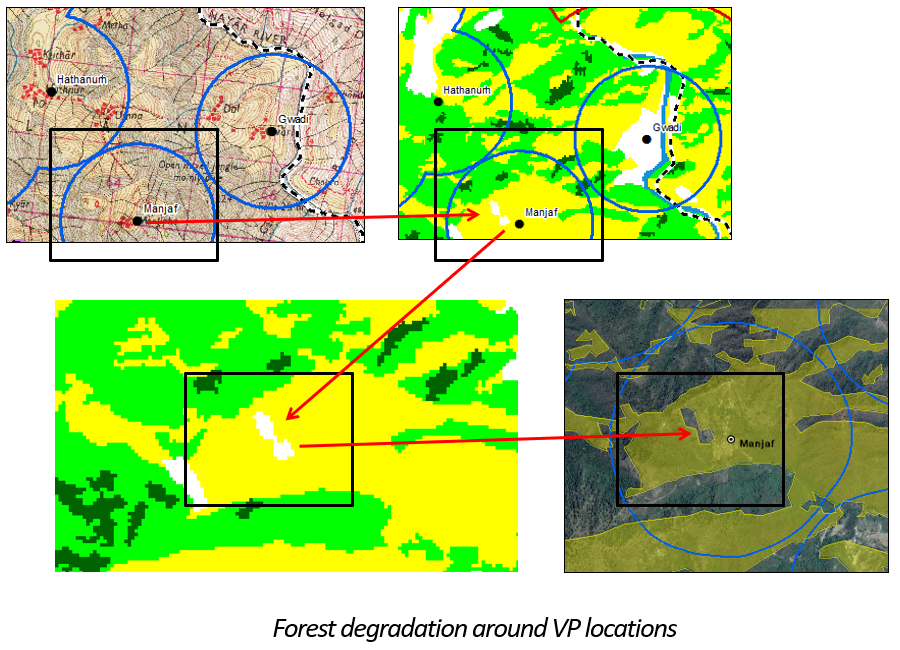 Resources Management Project (UFRMP) for target area selection can substantially improve the precision and effectiveness of the process of carrying out spatial analysis of forest cover in close vicinity to each Van Panchayat. The system also provides unique visualization support for studying cluster formation potential. Here's a step-by-step guide on how to approach target area selection in a forest project:
GIS Analysis Forest degradation around VP locations
Using GIS analysis to assess forest degradation around Van Panchayat (VP) locations involves utilizing spatial data to quantify and visualize changes in forest cover and quality over time. This can provide valuable insights into the state of forests and guide conservation and Eco-restoration efforts.
Data Collection: Gather relevant spatial data, such as satellite imagery, remote sensing data, land cover maps, and forest inventory data for the VP locations and their surroundings.
Georeferencing: Ensure that all spatial data is properly georeferenced so that it aligns accurately in the GIS environment.
Defining the Target Area: Define the extent of analysis around the VP locations. This could be a buffer zone or a specific radius around each VP.
Current Forest Cover Mapping: Use recent Forest Cover Map or remote sensing data to create a current forest cover map. This map will help and identify changes in forest cover and other land.
Change Detection Analysis: Conduct a change detection analysis by comparing the baseline and current land cover maps. Identify areas where there has been a loss or gain of forest cover.
Forest Degradation Indicators: Calculate and map indicators of forest degradation, such as deforestation rates, fragmentation, loss of biodiversity hotspots, and encroachment into protected areas.
Spatial Analysis: Use GIS tools for spatial analysis, such a
s proximity analysis to assess human encroachment, buffer analysis to determine sensitive zones, and spatial statistics to identify trends.
Generate Maps and Visualizations: Create maps and visualizations to present the analysis results in a comprehensible manner. Visualizing the changes can help stakeholders understand the extent of degradation.
Treatment Planning: Based on the analysis results, develop treatment plans for forest restoration, conservation, and sustainable management. Identify priority areas for interventions.
Monitoring and Evaluation Planning: Plan for ongoing monitoring and evaluation using GIS to track the effectiveness of restoration efforts and the recovery of degraded areas.
Data Collection and Pre-Field Mapping:
Areas/ VPs selected for Treatment (name, range, etc.).
Locations on OSM/ FSI forest cover map (1:50,000 scale).
Collection of recent High-Resolution Satellite Images (HRSI) suitable for large scale vegetation mapping (Cartosat 2.5m b/w and Resourcesat 5.8m Liss IV).
Provisional geo-referencing of images w.r.t OSM maps and integration with OSM map/ FSI map.
Study of VP locations and marking / delineation of degraded areas surrounding VPs on HRSI.
Preparation of Pre-field maps for ground truthing.
RS & GIS FOR BASELINE DATA
MIS
VP Micro- Plan
Map Showing Watershed Area Of Uttarakhand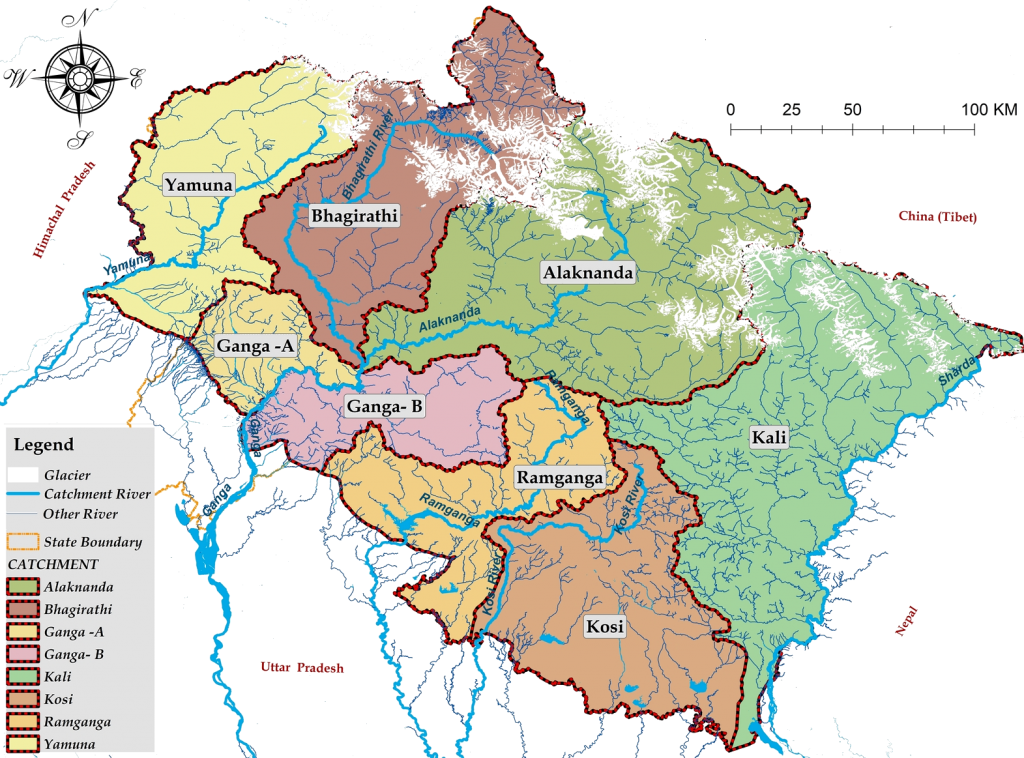 Map Showing Watershed Area Of Uttarakhand